ARTUS – Autonomous Rough-terrain Transport UGV Swarm
In the future, autonomously navigating robotic systems will make it possible to support soldiers directly in the field. Fraunhofer EMI has participated in and coordinated the international ARTUS research project.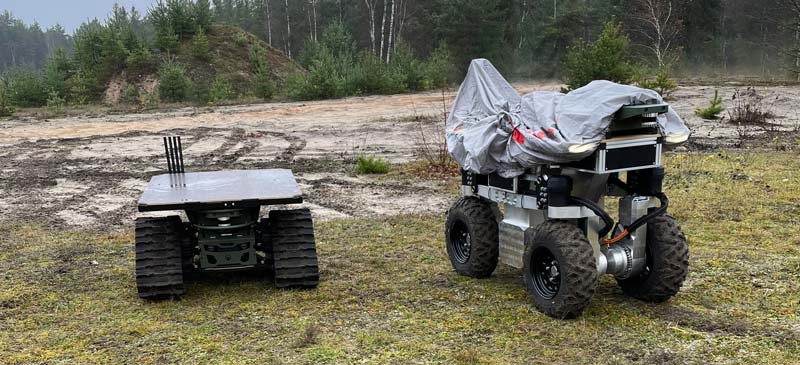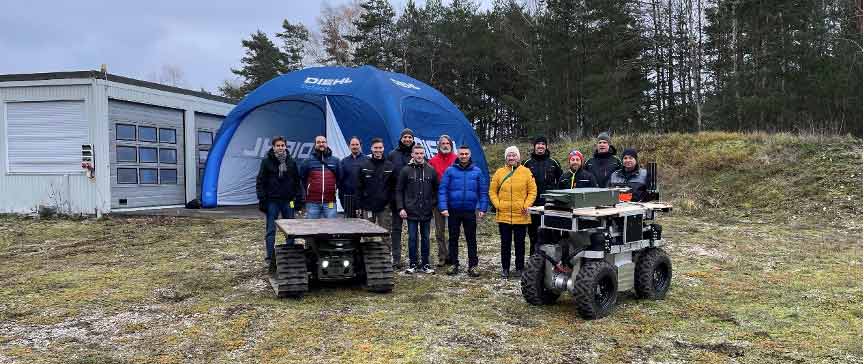 ARTUS is an EDA-project for the development of an autonomously navigating swarm of small all-terrain UGVs that relieves infantry troops.
The ARTUS project aimed at developing a feasibility concept and at building a demonstrator for a swarm of small all-terrain UGVs, navigating autonomously in the field. Extreme demands on troopers in terms of equipment to be carried in adverse surroundings necessitate a support system. Unmanned vehicles of various sizes are being developed all about, as are systems for autonomous navigation and swarm functionality. What is new in ARTUS is the conflation of these aspects in the collective development of a support system that takes over corresponding transport and supply functions without direct intervention of a soldier. The project consortium consisted of Diehl Defence GmbH — a global player in the field of defense — handling autonomous navigation, the French research organization ONERA being responsible for the swarm functionality, and the Austrian SME charismaTec OG, which developed and built the new chassis of the ARTUS vehicle. EMI had the project lead and was investigating the vehicle protection and system robustness of the swarm. In consecutive steps, the system parameters were outlined through the selected mission scenarios, the interfaces between the system components were defined and integrated into the corresponding vehicle. Finally, the functionality of the whole system was proven in a set of representative scenarios.