Risk and resilience analyses: risk analysis in terms of urban development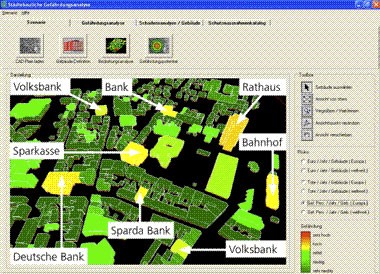 In the course of growing threats through terrorist attacks in Europe and Germany, the topic of constructional civil protection against terrorism is becoming ever more crucial. On the one hand, there is more need to quantify the potential hazards and risks posed by terrorist threats, and on the other hand, the constructional civil protection, especially of critical infrastructure, has to be implemented preemptively.
Against this background, Fraunhofer EMI has been commissioned by the Federal Office of Civil Protection and Disaster Assistance (BBK) to conduct a research project on risk analysis in terms of urban development. The research objective was to develop the computer program Explosion Effects in Cities (ExE-Cities) which gives answers to the following questions:
What kind of infrastructure is under threat?

What consequences have to be expected?

How can protection be accomplished?
The answer to the first question is given in the course of the scenario analysis. As part of the scenario analysis, the infrastructure that has to be protected and assessed is defined and a threat analysis is conducted by means of a database-assisted assessment procedure. These data are based on the evaluation of a worldwide database maintained by Fraunhofer EMI on terroristic attacks. As a result, critical infrastructure is identified. Figure 1 shows a color-coded example of the threat analysis. In this scenario, the townhall, banks and the train station are marked by yellow-orange coloring to indicate especially threatened infrastructure. In the end of the scenario analysis, the program user defines a specific scenario based on the results of the threat analysis, as, for example, the attack on the train station with a 1000-kilogram load.