BESECURE – Best Practice Enhancers for Security in Urban Environments (EU-Projekt)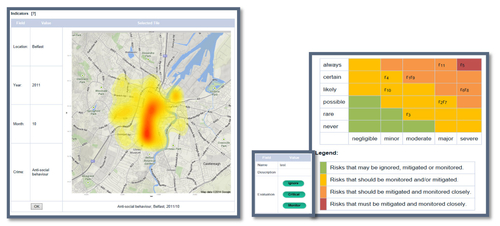 Urban security is a complex, multidimensional process which emerges from interactions of stakeholders which are getting more and more diverse. Many factors influence urban security, from sociological and economical structures of urban zones to the political economic landscape on the national level to the day-to-day work of public services which are active in those areas.
As urban security is of high importance, it is essential to share knowledge and practices on a European level.
The BESECURE project works towards a better understanding of urban security and mainly addresses local decision makers as users. Information about methods originating from literature, a collection of best practices, which proved successful in a comparable context, and the visualization of available data concerning urban areas form the basis of this approach. Furthermore, web applications support the users in their decision making, e.g., by guiding them through the processes of risk management.
Within the project, Fraunhofer EMI develops the interactive web application for decision-making support. The application structure is based on the international risk management standard by ISO (ISO 31000) and offers visualization options for geographic data and for time series.
Partners:
TNO, University of Ulster, Fraunhofer EMI, University of Freiburg (Albert-Ludwigs-Universität Freiburg), ITTI,
Stephen Lawrence Charitable Trust, FAC, JVM, Crabbe Consulting Ltd, Consiglio Nazionale Delle Ricerche, Universita Degli Studi Mediterranea Di Reggio Calabria, Experian Nederland BV, Stichting Dr. Hilda Verwey-Jonker Instituut and Institute for Housing and Urban Development Studies
Read more (BESECURE homepage)