EMI participates in donation campaign for Johanniter-Unfall-Hilfe
At Fraunhofer EMI, research expertise concerning 3D printing lies in the area of metal materials. But within the Medical goes Additive initiative "3D Printing fights Corona" and due to interdepartmental collaboration, EMI was able to print 3D face-shield holders out of plastic and donated 71 of them to the Johanniter-Unfall-Hilfe which plans to use them for training purposes. The completed face shields were ceremonially handed over in front of the Mobility goes Additive (MGA) office in Berlin on Wednesday, April 29, 2020.
Fraunhofer Additive Manufacturing Alliance as a member of the Mobility goes Additive network
As a member of the MGA network in Berlin, the Fraunhofer Additive Manufacturing Alliance was requested by the Johanniter-Unfall-Hilfe to produce and donate 5000 additively manufactured face shields. MGA is the leading international network for industrial additive manufacturing. It comprises companies, institutions and research institutes and pushes 3D-printed applications for professional use in several sectors like the automotive and railway sector. Besides, several working groups work on establishing additive manufacturing as an integral part of the production chain. The second division of the MGA network is Medical goes Additive, which focusses on European networks for additive manufacturing within the medical sector and is specialized in making use of additive manufacturing for medical applications. During the COVID-19 pandemic, the Medical goes Additive initiative "3D Printing fights Corona" supports the medical sector with 3D-printed medical products.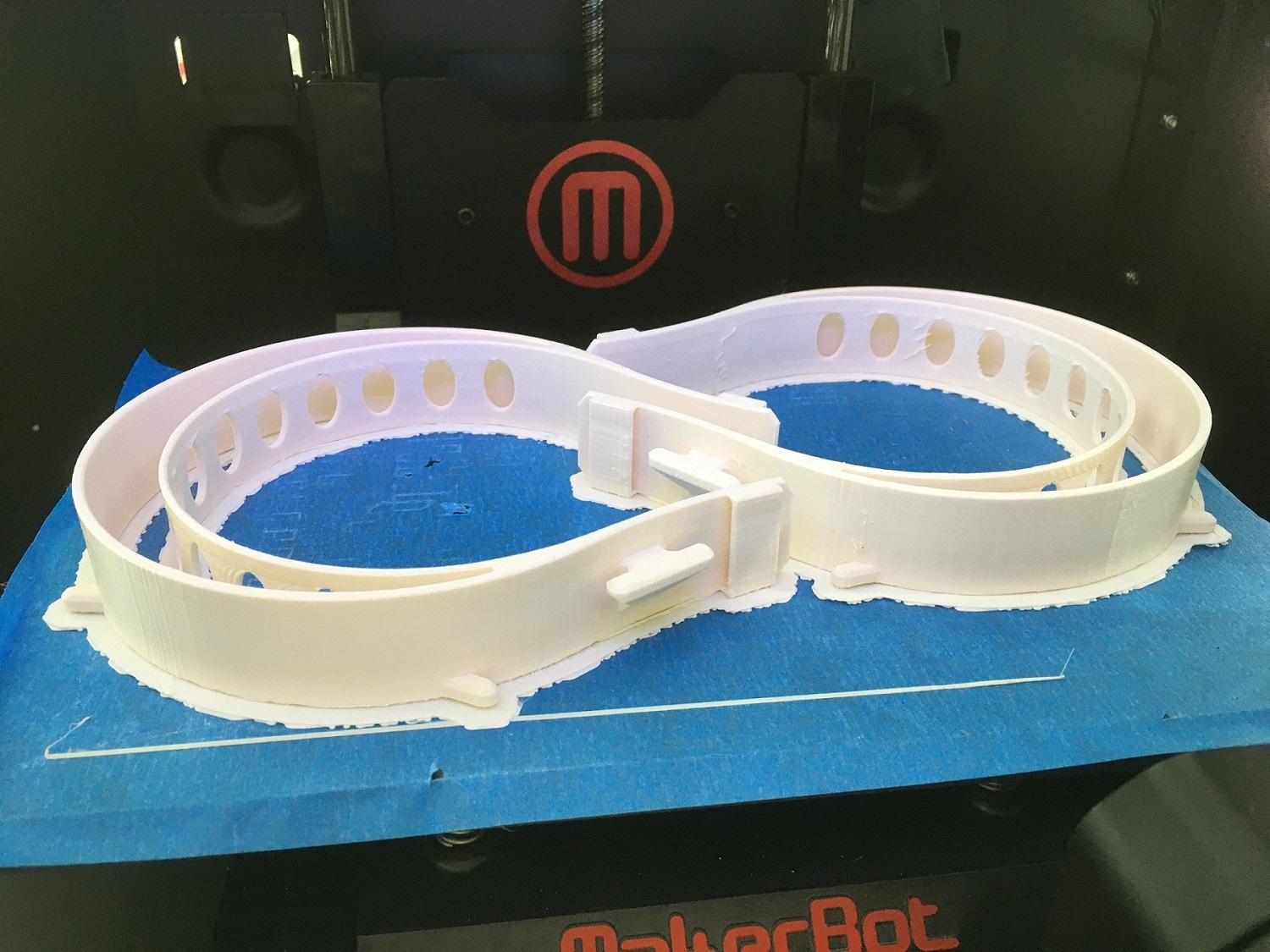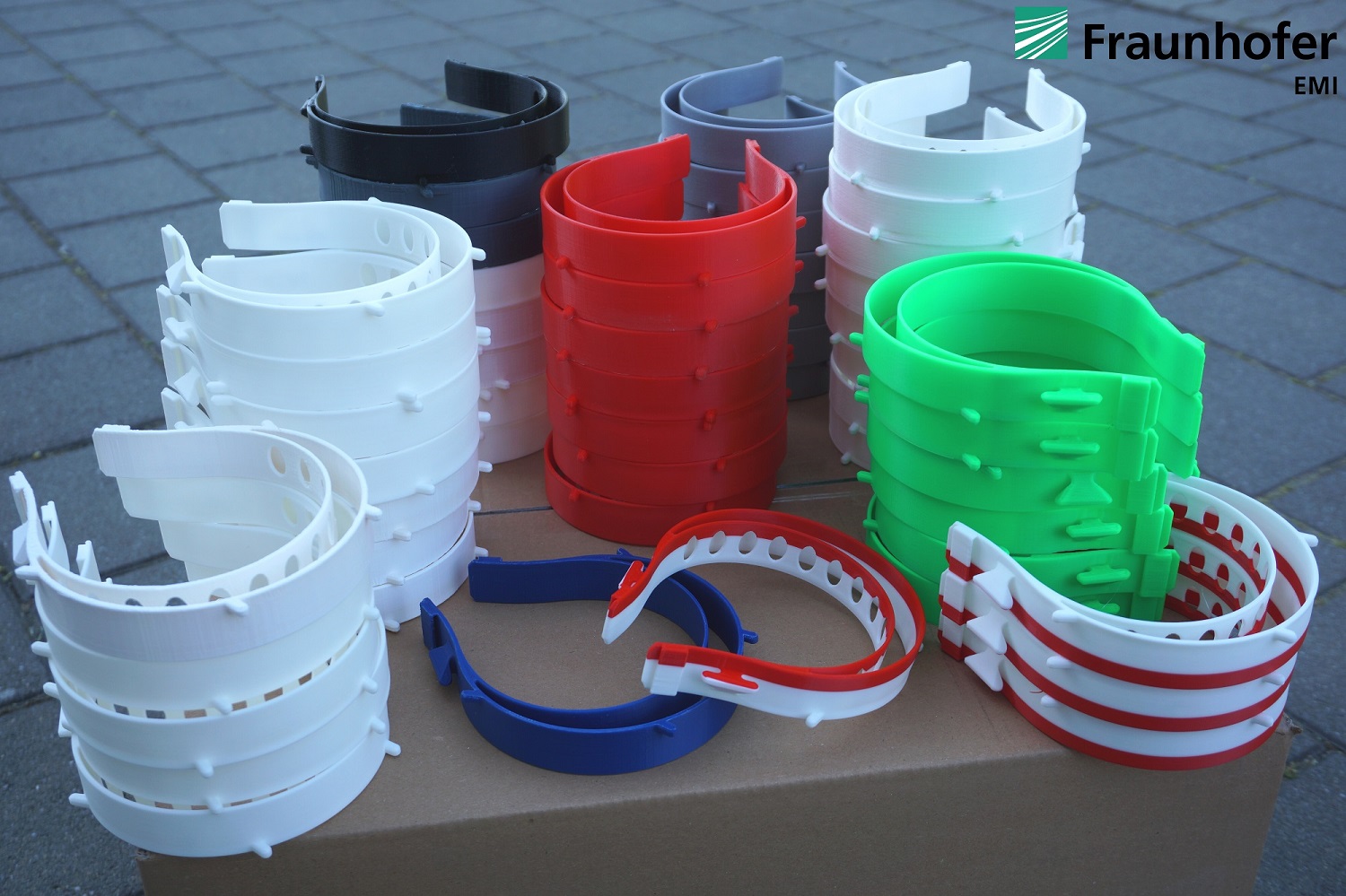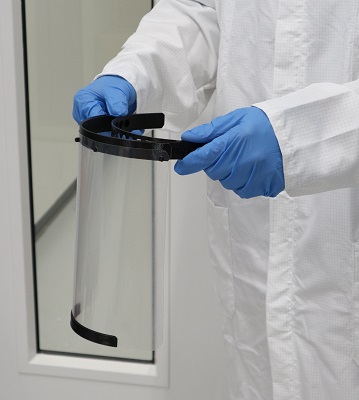 »Fraunhofer vs. Corona«
After Medical goes Additive had released an EU-wide call-for-help to all 3D-printing service providers, Fraunhofer EMI was able to donate 71 face-shield holders in accordance with the "Fraunhofer vs. Corona" program.
Those were handed over to the MGA office. The completed face shields were passed on to the Johanniter-Unfall-Hilfe on Wednesday, April 29, 2020. The current COVID-19 pandemic has led to a difficult procurement situation of protective equipment at volunteer training courses. "The worldwide COVID-19 pandemic leads to the circumstance that, suddenly, face shields have become everyday tools whereas they formerly were rarely applied instruments for occupational safety and health. […] Due to the pandemic in Germany, an increasing number of volunteers are being recruited or get prepared for their employment. […] Thanks to the 3D-printed face shields, volunteers can train extensively and do not need to worry they might withhold important and scarcely available protective equipment from other care providers through their training," explains Dr. Cora Lüders-Theuerkauf, network manager at Medical goes Additive.
Face shields from the 3D printer
The requested 3D-printed holders are intended for thin, transparent plastic shields, which serve to cover the face and provide a barrier to the highly infectious pathogen SARS-CoV-2. Within less than a week, EMI was able to send 71 holders to the Mobility goes Additive collection point in Berlin on April 23, 2020. There, rubber bands and plastic foil were added to the prefabricated parts for final application, and the completed items were subsequently given to MGA. Apart from Fraunhofer EMI, also Fraunhofer IAPT, Fraunhofer IPA, Fraunhofer IPT and Fraunhofer IWU are participants among about 50 different donators.
Due to the collaboration of Fraunhofer EMI and several other Fraunhofer institutes, a fast and flexible participation in the donation campaign and an active support of the Johanniter-Unfall-Hilfe were possible. Many thanks to the Medical goes Additive network and the Johanniter-Unfall-Hilfe for their work and commitment to society.