SUSQRA – Protection against improvised explosive devices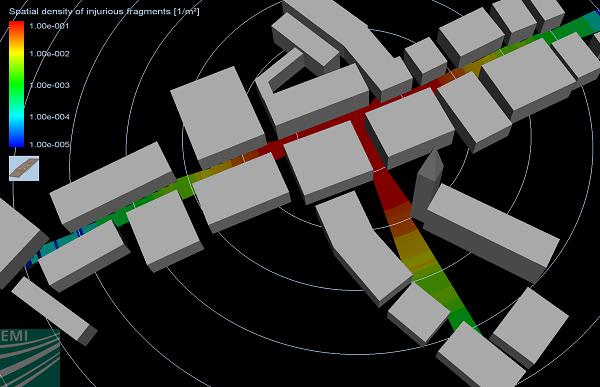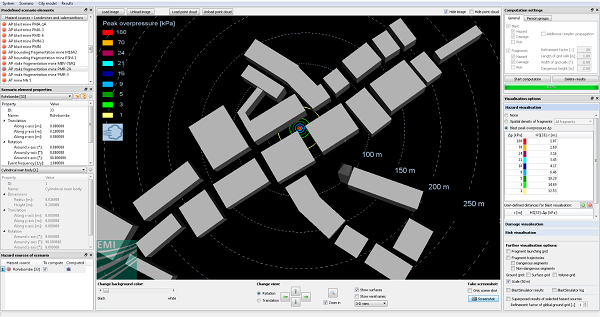 When a bomb attack either was foiled or actually took place, the police authorities must perform a forensic investigation. Among other objectives, this also serves to assess the level of possible damage as evidence in a court hearing. The necessary reconstructions of explosions are time-consuming and expensive. Moreover, prior to major events such as city marathons or Christmas fairs risk analyses are imperative in order to prevent threats and to effectively take protective measures.
For this purpose, the German Federal Ministry of Education and Research (BMBF) is funding the SUSQRA project within its "Research for civil security" program in the field of "Future of urban security". SUSQRA aims at the development of an expert system to quantitatively assess the extent of damage caused by improvised explosive devices (IEDs) almost without using experiments. The software application is supposed to address various classes of explosive charges of complex geometries and, especially, to consider the effects of fragments in true detail. To this end, numerical and analytical calculation methods are developed and validated with damage data from experiments. On the one hand, the SUSQRA analysis tool supports security experts in their risk analysis prior to an event in order to identify threats, to develop security concepts and to establish protective measures. On the other hand, the SUSQRA demonstrator assists forensic experts after an explosive event to make statements regarding the used explosive, coating materials or distances of the fragments.
As a result, the SUSQRA demonstrator provides a realistic damage and risk assessment for urban environments and significantly contributes to reducing costs and time investment of security experts and forensic scientists.
In this context, the graphical user interface of the SUSQRA demonstrator is of central importance: It has to be kept as simple as possible for the experts to use it efficiently in their daily work. The feedback of security experts and forensic scientists is constantly incorporated during the project's proceedings to continuously improve and adapt the SUSQRA demonstrator to the needs and requirements of the end-users.
See also: https://sifo.bmbfcluster.de/en/approved-projects-in-the-future-of-urban-security-field-2364.html
SUSQRA data sheet (available only in German): https://www.sifo.de/files/Projektumriss_SUSQRA.PDF
Please, read the Fraunhofer press release on the SUSQRA project: https://www.fraunhofer.de/en/press/research-news/2020/august/protection-against-terrorist-attacks-with-homemade-explosives.html
Results from the SUSQRA project will be incorporated into the EU project PRINCE: www.isfp-prince.eu